Mahira Khan is one of our biggest style inspirations; her looks always kill! But out of everything she dons, we'd love to get our hands on her saris – because who wouldn't? If you're a fan of the Superstar's fashion sense (see what we did there), you know she has a long-running affair with this elegant piece. And it's not only the saris she chooses to wear; it's also how she carries them. If you're looking for some graceful and glamorous ways to rock a sari this wedding season, take some notes from the pro herself – Mahira Khan!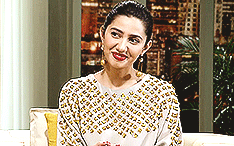 1. All-Out Traditional
The grace of wearing a sari the traditional way is unmatched! Take a cue from Mahira and opt for a solid-coloured, silk sari. Pair it with some classic jhumkas and simple makeup and you're ready for any kind of event. It's effortless, elegant and timeless!
[twl_embed link="https://www.instagram.com/p/BtGk677Hcnq/"]
2. The Lazy-Girl's Dream
Sometimes you just want to wear a sari but don't have the time or energy to get a blouse stitched. In those cases, get a little creative and use a button-down as a blouse, just like Mahira! A printed sari will look great with a plain white or black button-down shirt. Keep the accessories minimal – a pair of hoops should do the job. And when you're done with the sari, switch into some jeans and you're good to go!
[twl_embed link="https://www.instagram.com/p/B0RuoE8hoWH/"]
3. Make It Funky
We love our classics, but modern saris have taken the style game to another level! From vibrant colours to wild prints and quirky draping styles, the contemporary sari is anything but confined to conventional style. Take cues from Mahira and opt for an avant-garde, asymmetrical sari. A sleek ponytail, jewelled earrings and you'll be turning heads wherever you go!
[twl_embed link="https://www.instagram.com/p/Bw12RsEn542/"]
4. Channel You Inner Boss-Lady
To give your classic, floral sari an edgy twist, add a blazer for some structural contrast. Throw it over your shoulders like a cape for that ultimate boss-lady look, while maintaining the elegance of the sari. And the great thing is, this look can be paired with anything. You can choose loose curls and glam makeup, like Mahira did, or even do a sultry smokey-eye. This look is fool proof!
[twl_embed link="https://www.instagram.com/p/B1Me4quhruj/"]
5. Summer Ready
If you think saris only work for night events in the summers, think again. With this cool and gorgeous look, Mahira proves otherwise. A lightweight sari in a soft hue complemented with minimal makeup, straight hair and dazzling earrings — it's the best way to sport this flowy garb on a hot, sunny day.
[twl_embed link="https://www.instagram.com/p/BwzJll7HF3W/"]