The major fashion capitals of the world — London, Paris, Milan, New York — are all meccas of innovative thought and style. The designers that call these cities home are surrounded by an insane variety of art, and inspiring architecture that represent the cities heritage. More than that, they find themselves in the hearts of cities that are populated by diverse and eclectic lots of people. It's the people hailing from their own foreign, sometimes vastly different communities that foster interesting conversations and new ideas. And those are the very ideas that go from being discussed in warm living rooms over coffee, to the design rooms of ateliers. These are the motivated artists — both up-and-coming and long established, who push the boundaries of what we consider to be 'on trend.' Karachi is no different. It's a bustling metropolitan of designers that decide what's in vogue every season by showcasing their collections at fashion week.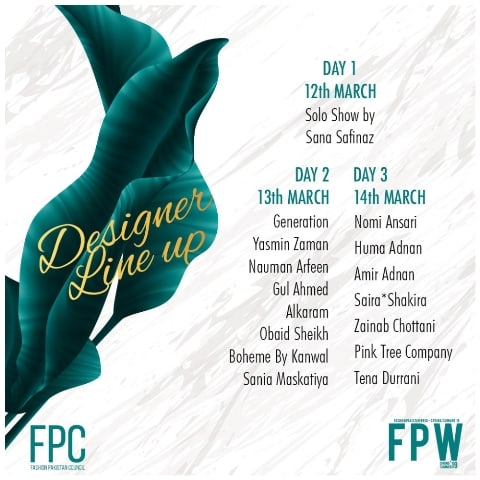 Receiving my invitation in the mail was like finding the golden ticket to Wonka's factory — what wonders did FPW SS19 have in store for me? Before I got too ahead of myself, I knew there were a billion things to do. As much as Pakistan Fashion Week is about the clothes on the runway, let's be honest, it's also about the clothes on the red carpet. A red carpet look can't just be any old high street jumpsuit. It's a chance to express your style in the latest styles. It's an opportunity that can't be wasted. Thankfully I found my saviour in Ather Hafeez, the new creative director for Alkaram Studio. When he offered to make me a custom couture gown — how could I say no? 
He's no stranger to the world of high fashion. Having worked for Sana Safinaz and helped them establish a bold but contemporary aesthetic, he's on to the next phase of his creative journey. Alkaram is a brand that's managed to stay relevant in a constantly, even rapidly, innovating field. Their priority rests on quality, always. When that core value meets a melting pot of designs that cater to every woman from the no-nonsense working ones, to the younger girls that love playing with colours, you get a brand that never disappoints. Ather's bohemian style roots itself in bright colours and structured cuts. His vision for this collection took flight with inspiration from Georgia O'Keefe's paintings. Famous for her floral imagery, it similarly runs throughout his collection as a motif. 
[twl_embed link="https://www.instagram.com/p/Bu296sHHfHH/"]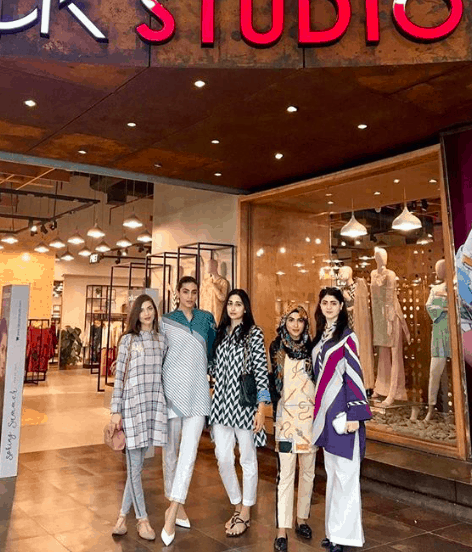 It's safe to say there was a ball of anxiety in the pit of my stomach about this dress — excitement, but also anxiety. It's one thing to pick something off a rack and try it on, and it's a whole other to have it made from scratch for you. What if it isn't ready on time? What if the day comes and I don't fit into it? It was a waiting game. My personal style is very minimalistic. It's the monochrome black and whites, metallic tones, and nudes that call to me. It's not that I don't like colour — I love colour! When the occasion calls for it, like a wedding or a brunch, I'm all for jewel tones and pastels. In fact, one of my prized possessions is a multi-toned Celine bag (a little worse for wear now with my merciless use over the years). I was confident that Ather knew what he was doing, but that didn't mean I was any less terrified when he told me my dress would be pink. My 'safe' colours are so much darker! And pink is well.. not. His aesthetic is extremely feminine in the best way, and he wanted to see me embrace that for this red carpet. After four fittings with bated breath, it was finally done — and it was stunning. The workmanship alone blew me away. It fit like a glove, thankfully, and the blush pink was anything but loud. The satin fabric muted the colour even more, and it complemented my skin tone perfectly. The sleek fit was accentuated with big ruffles on one sleeve, while the other one was off the shoulder. The look instantly reminded me of something Mahira wore at Cannes, and I'd already envisioned which picture of hers I was going to replicate for Instagram. There's a popular philosophical question that goes something like, 'if a tree falls down in the forest but no one hears it, did it even happen?' — the modern equivalent is probably, 'if you get dressed up but don't take a picture and post it, did it even happen?'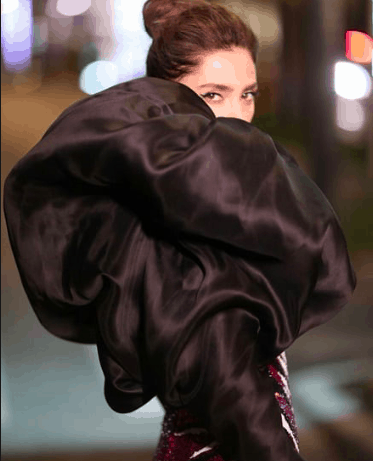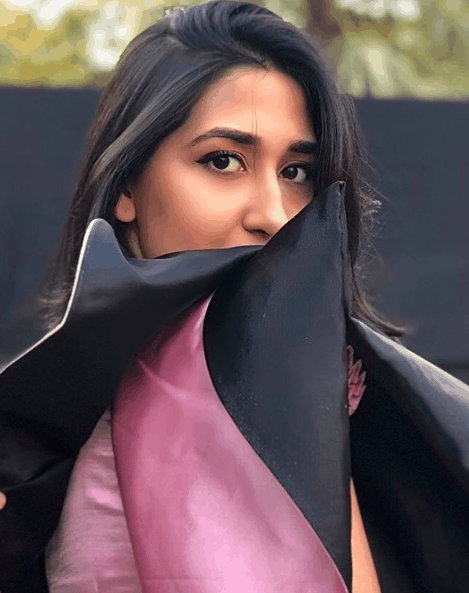 Getting ready for the red carpet isn't a quick affair either. It's an all day process. I'm a huge fan of all natural remedies and skincare, so I started off in the morning with my favourite homemade coffee and coconut body scrub, and did a tried and tested egg mask for hydration. It completely rejuvenated my skin! Next on the to do list was a straight blow dry. I felt like anything else would would have risked being over the top against the shoulder ruffles on my dress. In terms of makeup, I kept it simple and stuck to nude tones and other neutrals, with a lip shade that matched my dress.   Time really flew on the day of — as soon as I arrived, I was ushered straight backstage to get a first look at some of the looks that would debut on the runway later. I felt adrenaline rush up my spine. It was complete mayhem backstage, but in the best way possible. The makeup teams from Sabs Salon, headed by Samiya Ansari, were already scrambling to put the finishing touches the models for the first show. It was a tornado of quick hand movements, palettes being snapped open and shut, clothes being tried on one last time, and from the corner of my eye, I spotted a glimmering table towered with accessories for the models in the corner.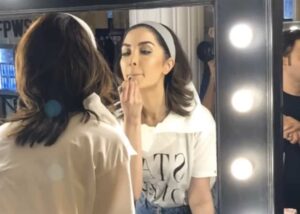 The clothes looked stunning on the rack, but later when I was front row watching the show, they seemed to have been transformed on the backs of all the stunning models. As feminine as the floral motifs were, they didn't overpower the clothes themselves. Some of the structured gowns featured long pleated frills that run long and all the way down, while other more stiff fabrics were finished off with a trail fit to make any girl feel like a queen. The music was befitting — the show started off with IDGAF by Dua Lipa playing as the first outfits began cascading down the long runway. The collection was extensive. I spied a jumpsuit in army green with a simple floral print on one leg that had my name written all over it. Another black jumpsuit spoke out to me, one with flared pants, full sleeves, a cinched in waist, and a red floral pattern on the leg. It would be perfect for a dinner party or engagement soiree, which is great since almost everyone I know is gearing up for a string of summer weddings coming up very soon. The show also featured oversized wrap around coats in what looked like a light, satin fabric which could be worn casually — the kind of thing I might wear to work, on the days I don't have time to put too much thought into creating a whole outfit. It works as a complete stand alone piece. Between the gowns, big sleeves, and bright patterns against solid colours, I was (pleasantly) surprised to see a few biker shorts. Robina Khan modelled a black pair while holding a lollypop in her right hand — the kind of sassy vibe that has come to characterise this new collection by MAK. Another pair of sky blue biker shorts were paired with an oversized blazer in the same colour. The versatility of both items is what struck me. The biker shorts are a trend that took off abroad, but haven't entirely reached Pakistan yet. MAK is one of the first brands I've seen tapping into it well. The oversized blazer could also be worn separately, which is fantastic, because I love being able to buy items that I can mix and match to create entirely new outfits from. The last piece that really caught my eye was one I wouldn't normally go for. It was a white and red loose fit boiler suit in what looked like an extremely light, airy fabric. It was such a fresh take on the boiler suit fad, and the casually chic styling had my attention even during the final walk down. Here's a run down of some of my favourite looks, and the kinds of occasions I think they'd be perfect for!
Casual Chic – Perfect For Hanging Out In With Your Squad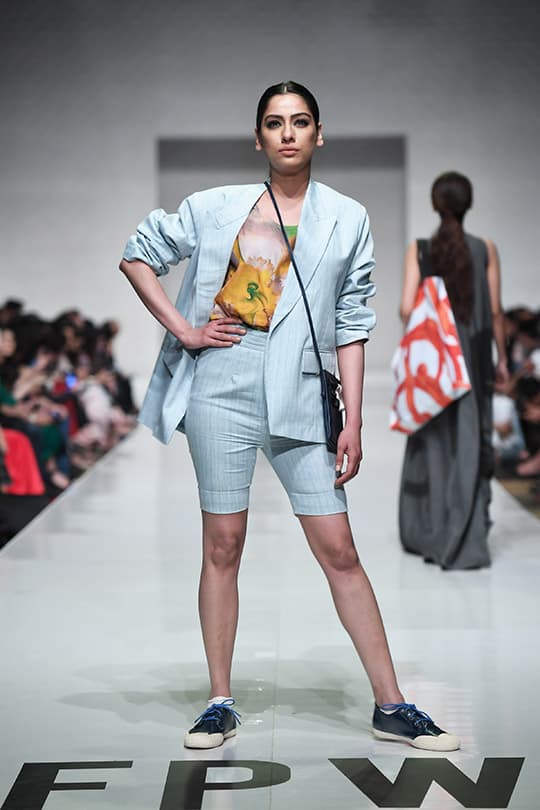 Statement Pants – These Bottoms Can Make Any Outfit Fun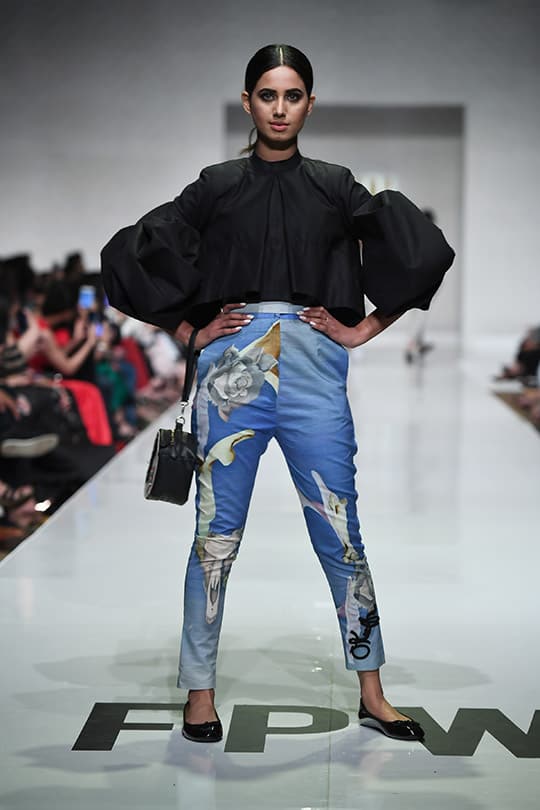 Throw On Style – Easy, Bold Outfit For A Day Time Event