Plants have always been an essential in interior design. No matter how many paintings, wallpapers and colourful items you add to the house, nothing will match the aesthetic these green beauties bring. But their appealing presence isn't the only reason you should add them to your home – their benefits go far beyond this. You don't need to be an environmentalist to understand how indoor plants improve our lives. In case you're still not sure, the following benefits of plants will convince you for life.
[twl_embed link="https://www.instagram.com/p/B0onbAugRuo/"]
1. They Improve Your Mental Health
It's no surprise that nature's elements play a role in uplifting your mood. But you needn't go outside to experience this. Just bring some indoor plants into your house for some good vibes. Firstly, the colour green in itself is an energy booster. It represents vibrancy, calmness and health. Secondly, maintaining the plants by watering them, keeping them in and out of sun and observing their growth is considered to be a form of mindfulness and will help keep your energy up.
2. They Improve Air Quality
Most of the air we breathe is anything but fresh and healthy – thanks to pollution. While there's no way to avoid it when you're out, having plants indoor can provide you some much-needed relief, as they are natural air purifiers. As we all learned in middle school science, plants take in carbon dioxide and release oxygen. This was further proven by an experiment NASA carried out in 1989, where certain indoor plants removed harmful toxins from the air. This improved air quality will help you in the long run, physically and mentally.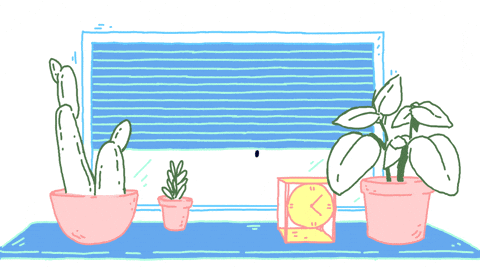 3. They Boost Productivity
Ever wonder why people have plants near their workspaces? It's because it helps them concentrate better and work more efficiently. Workplaces without any sort of decoration appear dull and demotivating and, as a result, can make you feel stressed and lethargic. On the other hand, those with more colour, decor and plants will help you get rid of that feeling and give your mind the boost it needs to improve productivity. It's also been proven by various studies that tasks performed while under the calming influence of nature are performed better and with greater accuracy, yielding a higher quality result. Who doesn't want that?
4. They Help Reduce Background Noise
Living near a busy street can be extremely disturbing due the never-ending noise pollution. If you live in such a place, think about getting some pretty indoor plants for your house. Plants can reduce background noise levels by absorbing and deflecting the sound. Yet another way plants fight pollution – noise or otherwise!
5. They Help You Sleep Better
If you have difficulty sleeping peacefully at night, try adding some plants in your bedroom to ensure a good night's sleep. With their soothing, stress reducing and air-purifying powers, plants help you sleep better. Lavender or jasmine plants are more preferable for bedrooms as their scent has a calming effect. Plus your room is going to smell great!