About The Brand
Waniya by Mehr Azam merges classic couture with a modern, elegant, and chic touch to design unique and feminine attire for the fashionable woman. Mehr Azam aims to make classy, lavish, and lineal attire. Craftsman techniques and detailed couture embroideries are used to concoct the finesse of each design.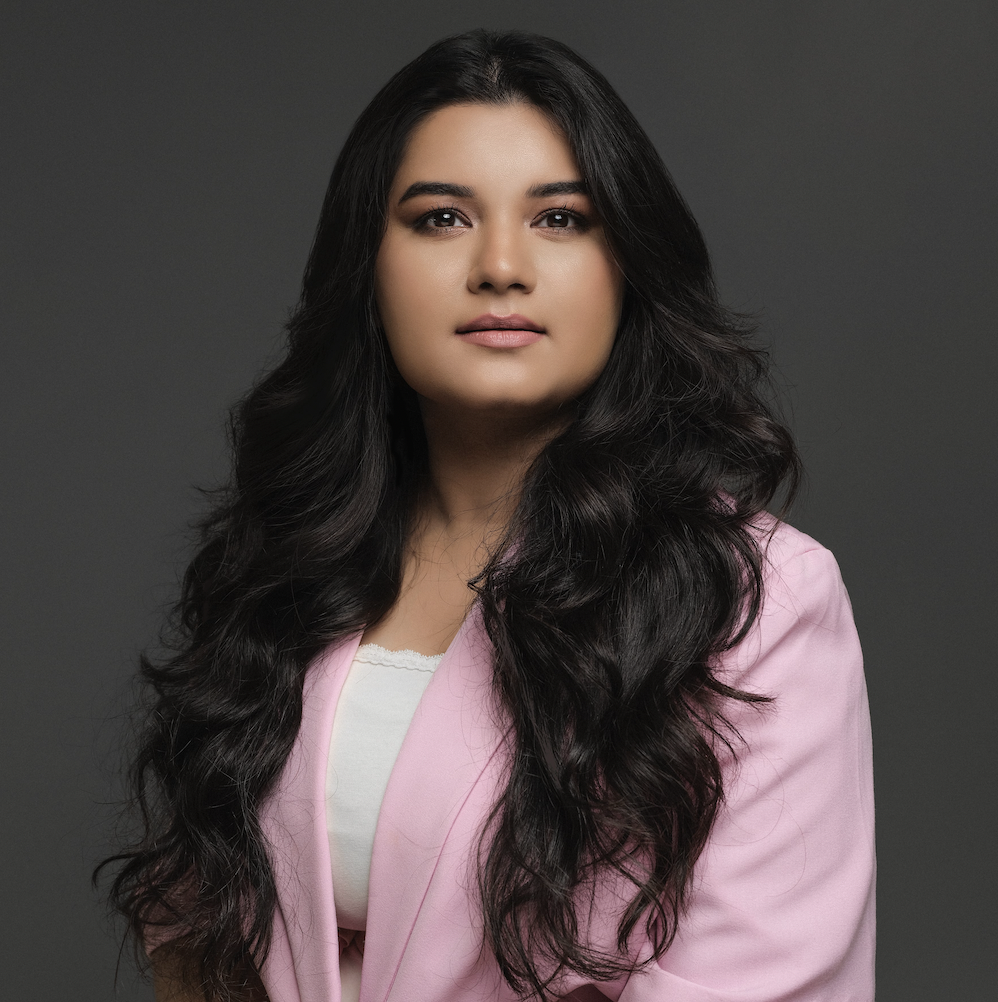 About The Collection
The name 'Mehrunnisa' is associated with a bride of modern heritage who has innocence to her,  but is strong and fierce at the same time. She's experimental with her designs, which are primarily a modern rendition of antique styles and designs. The collection is an eclectic fusion of cultural heritage and contemporary ideas. 'Mehrunnisas' vision is to give brides the opportunity to curate a diverse wardrobe.
Raya
Breathing in their rich traditional craft & extravagant silhouette epitomizing the heritage of bridal culture, @adiitraohydari revels in an unparalleled charm of kiran, resham & dabka! Adorned intricately with a variety of dori, tila, & sequin which accounted for over hundreds of hours of diligent artistry, and paired with a bodice that lends a modern edge, it's the perfect outfit for any modern bride looking for an antique look!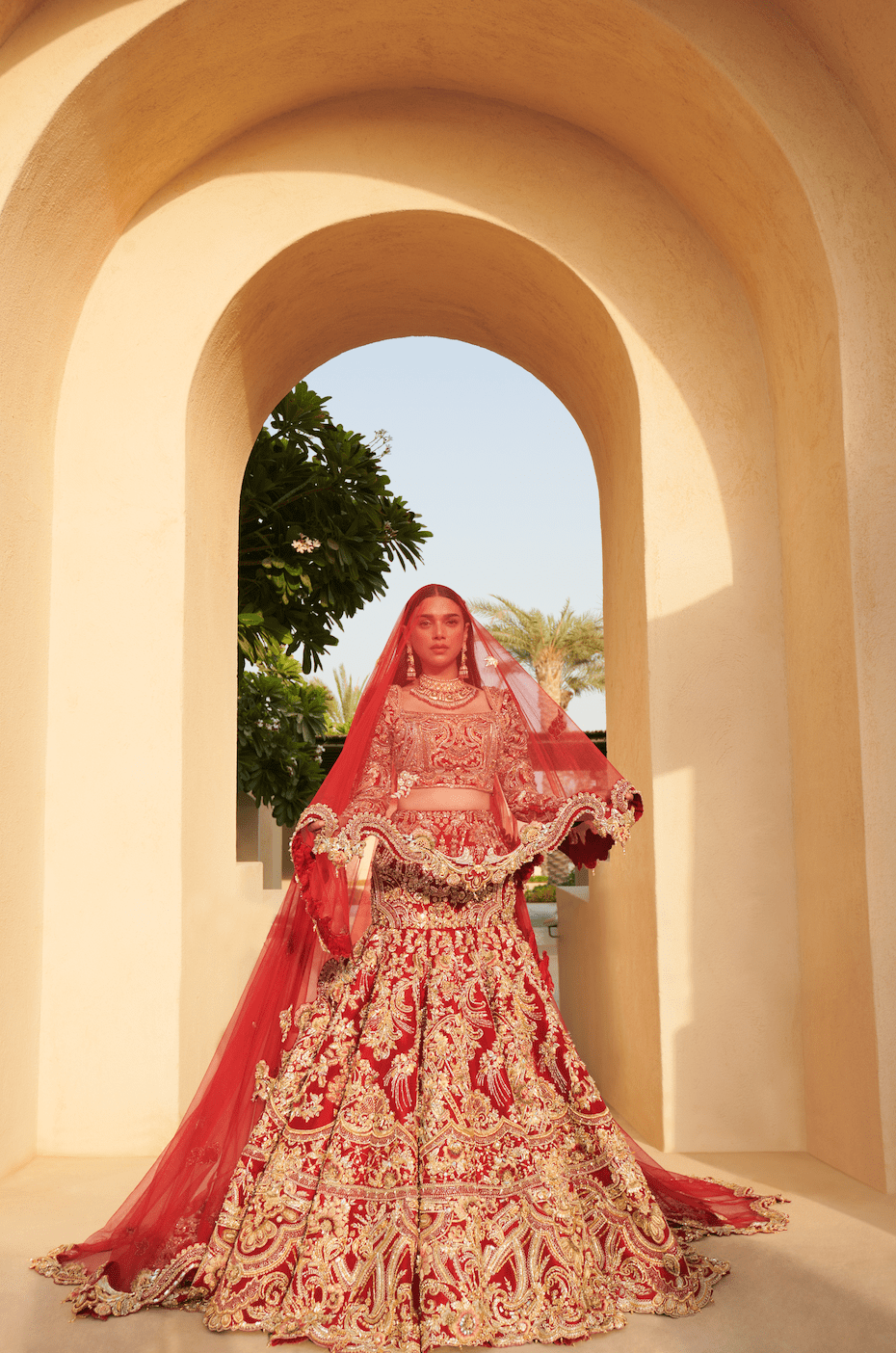 Vasl
A magenta pink mono-toned three-piece pishwas set that embodies grace & ethereal elegance. Features embellishments of tila, sequin, kiran, dabka, resham threads, three-dimensional floral encrusts gloriously worked together into the delicate fabric. The outfit is best paired together with a blush pink dupatta with intricate detailing.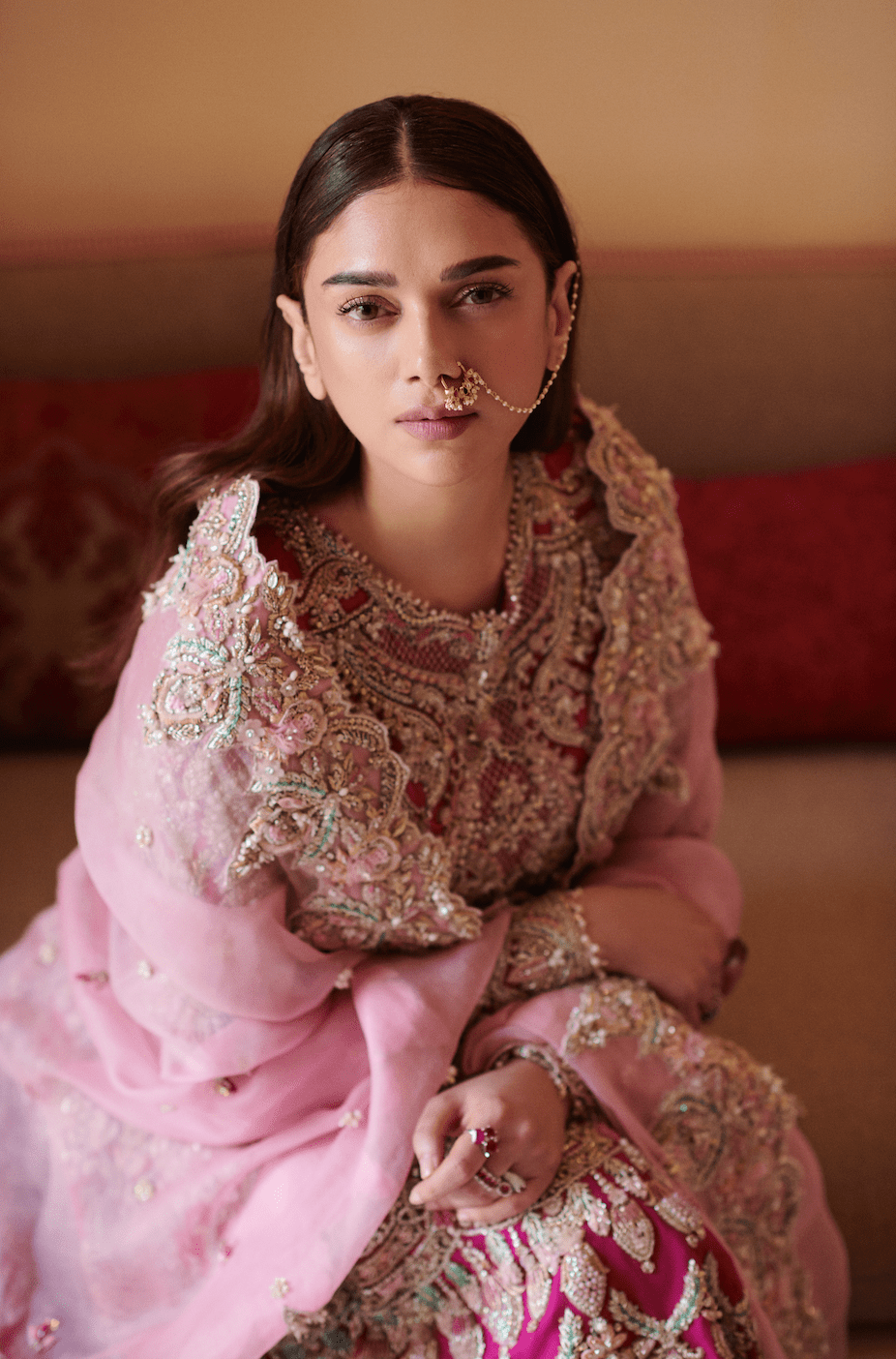 Inara
A vision of not just royalty but art as well. Celebrating the  festive color narrative in a fuchsia pink ensemble heavily embellished with dabka, kiran, tila, kat dana, mukesh, resham, and fine crystals draped with a sky turquoise organza dupatta with heavily worked borders.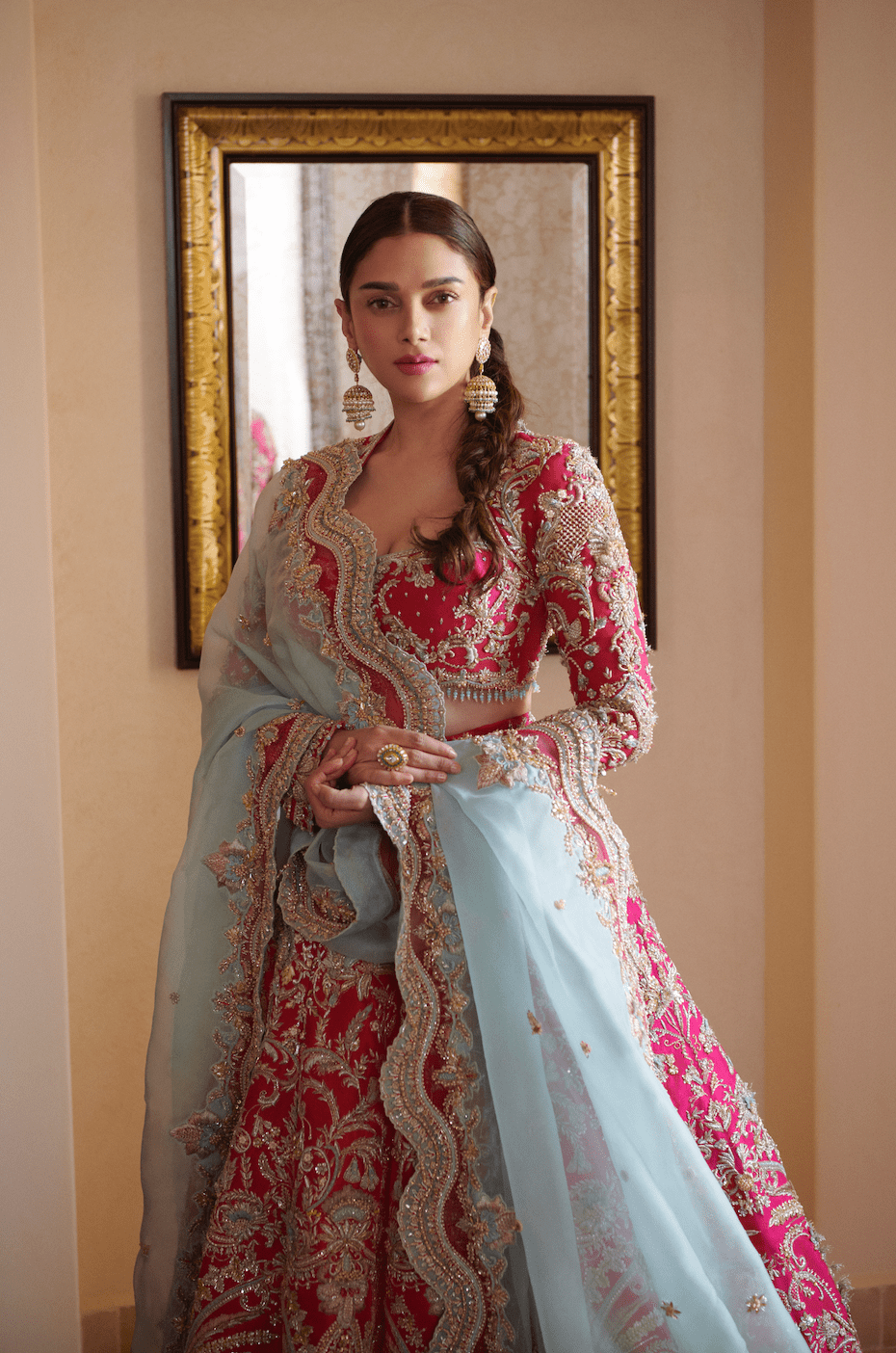 Nuri
Lilac & dull gold, this outfit has a sweeping elegance & charm that were obsessed with! Pastels have always been a bride's choice when it comes to showcasing a subtle elegance at their wedding. Nuri is exquisitely handcrafted with a variety of pearls, dabka, dori & tilla, a variety of sequin, & three-dimensional colorful fabric petals for an intricate touch – paired with a sheer organza dupatta with adorned scallop edges.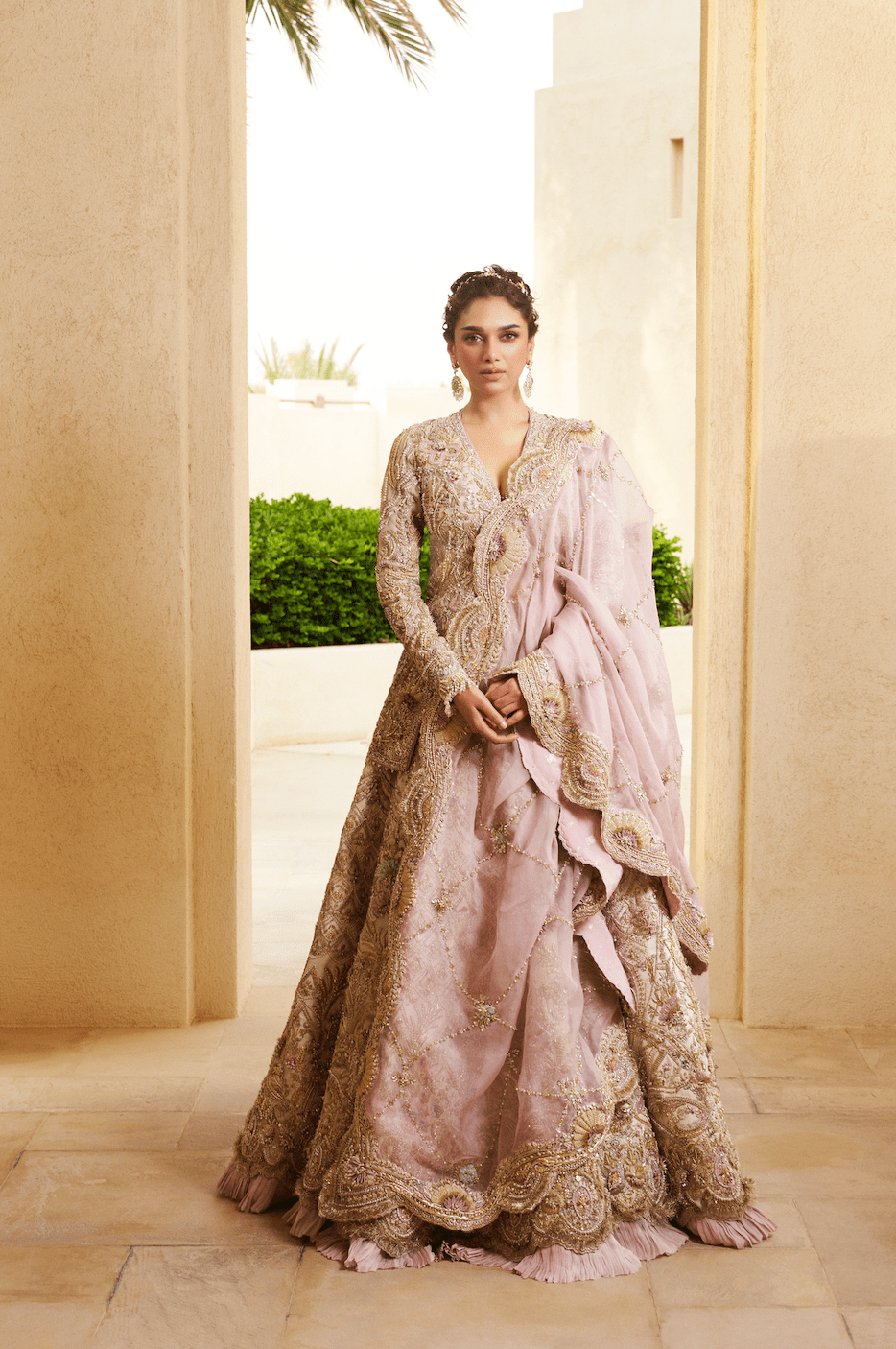 Taia
Capturing the look of the modern bride, Aditi dons a beautiful fish tail lehenga in hues of gold, uplifted with dabka, antique gold sequins, gota, kat dana, monotone resham threads & a variety of stones. The look is enhanced with attached wings with heavily adorned ends! Witness exquisite craftsmanship at play with different shapes & cuts blouses of blouses that feature three-dimensional embroideries and so much more.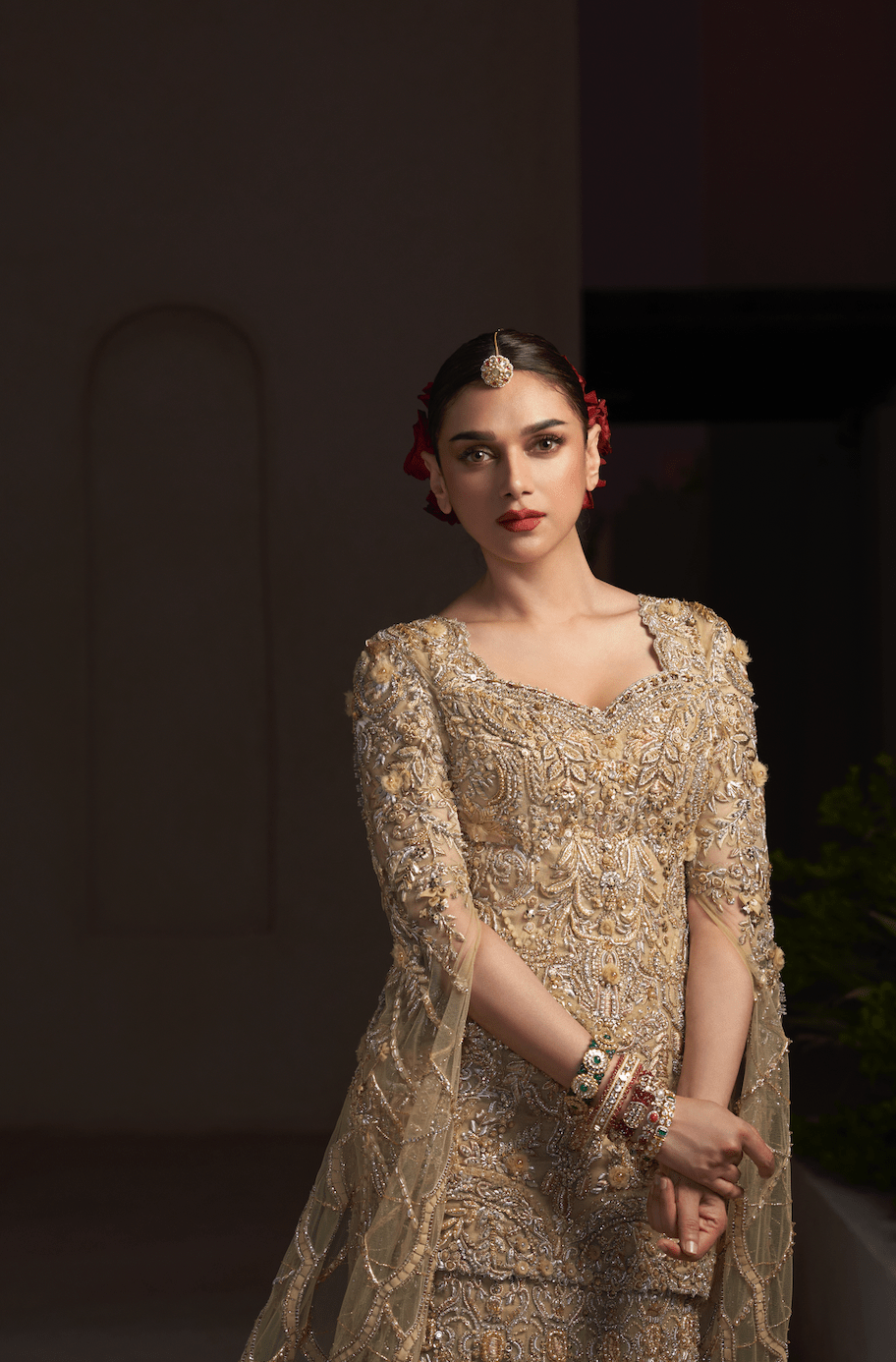 Dahr
A red bridal ensemble is a classic for any bride. Here, Aditi charms this red modern yet cultural ensemble luxuriously hand-worked with silver, and antique gold sequin, tila, fine pearls, gota, dabka, bakshi, resham, and kat dana enhanced with three-dimensional petals. Paired with a contemporary cropped bodice & draped with an organza dupatta edged with heavy details, it's an outfit that's bound to impress!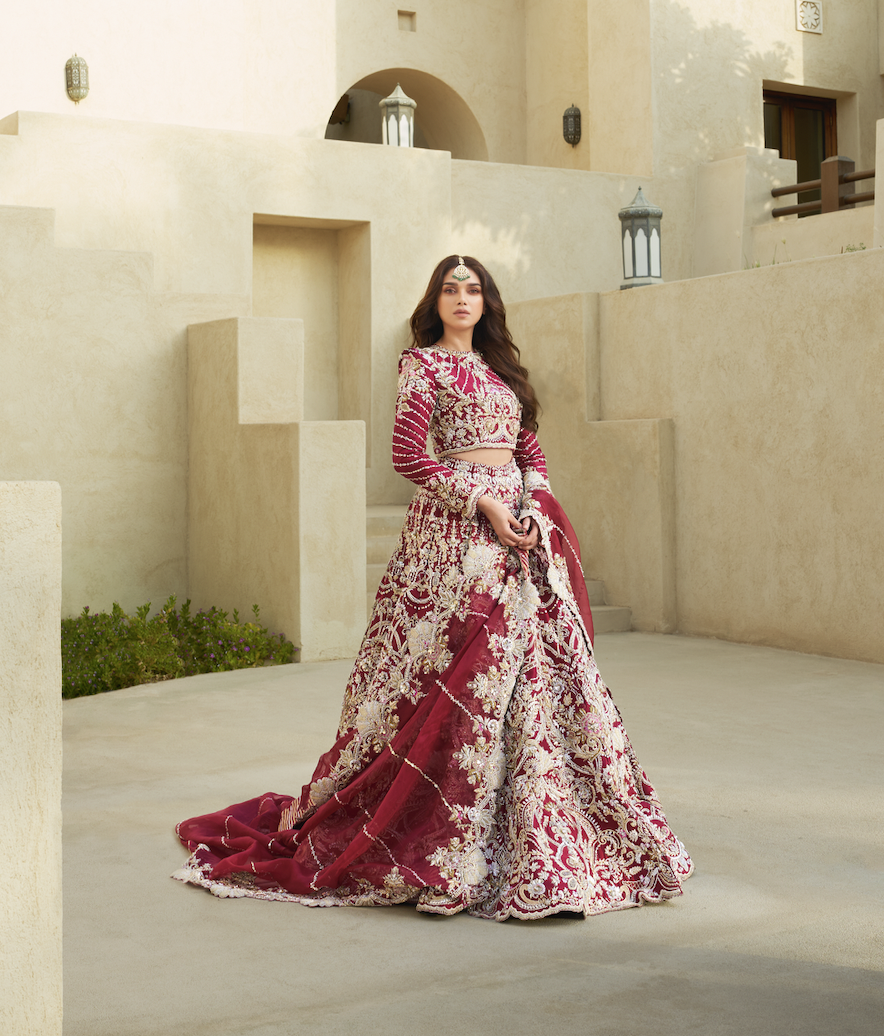 Ruhi
A blend of traditionalism & modernism, this ensemble is nothing less than a royal dream, a vision that thrives on entwining the old-world charm with modern-day choices! For its sweet surreal charm, the peach palette lends an alluring vivacity to the attire, gracefully adorned with dabka, peals, bethki, kat dana, and gota.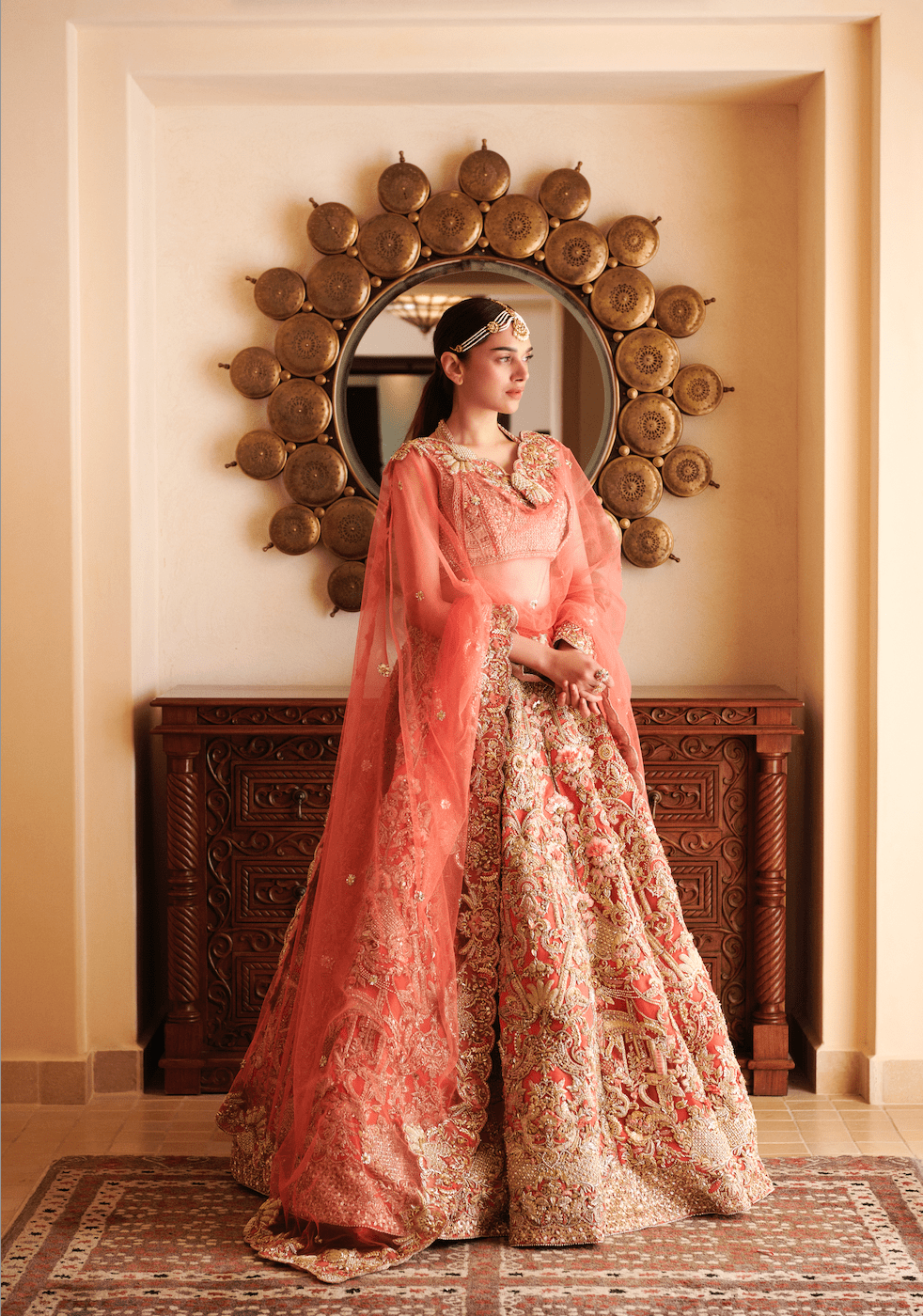 Maahru
Poetic, opulent, and luxuriant in every way! This outfit is perfect for the modern maharani! This layered pink-toned ensemble basically speaks for itself. It is densely embellished with nakshi, dabla, resham threads, sequins, kat dana, kiran, gota, & enhanced with three-dimensional petals.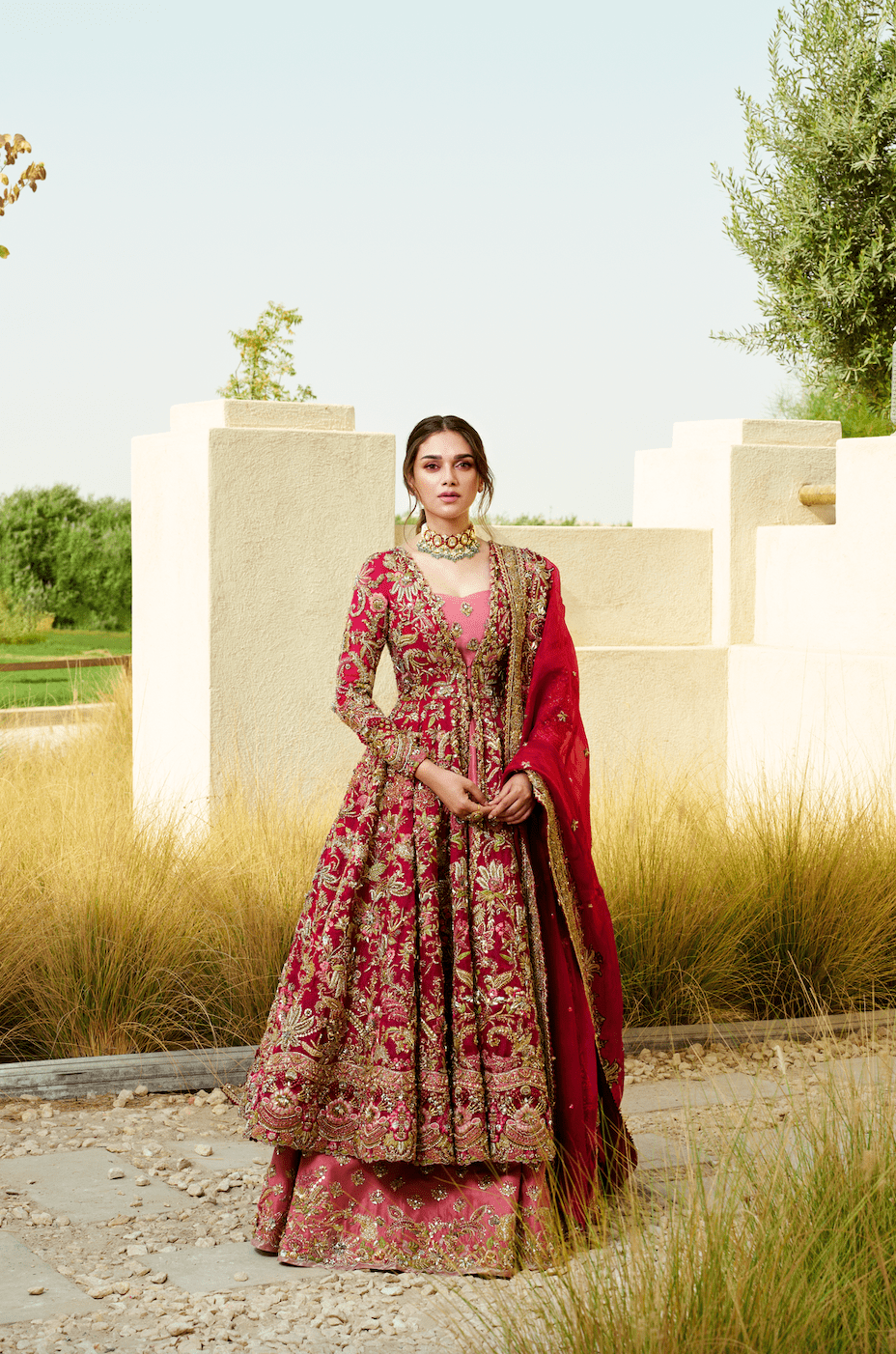 Credits
Designer: @waniyabyma @mehrazam2
Muse: @aditiraohydari
Hair & Makeup: @marianna_mukuchyan
Photographer: #TarunVishwa
Stylist: @sanamratansi
Jewellery: @lszaveri
Videographer: @duanemendes
Visual Direction: @mshahroz.tariq
Location: @alwathbahotel
PR & Coordination: @tnbtpr